THE BEST OF THE BEST | PRIVATE COLLECTOR ESTATES AND MORE!
Thursday July 26th 2018 - 1:00 pm
Thursday July 26th 2018 - to 6:00 pm
Auction Network
501 Alden Road, Ontario
Markham, Ontario L3R 3L4
Canada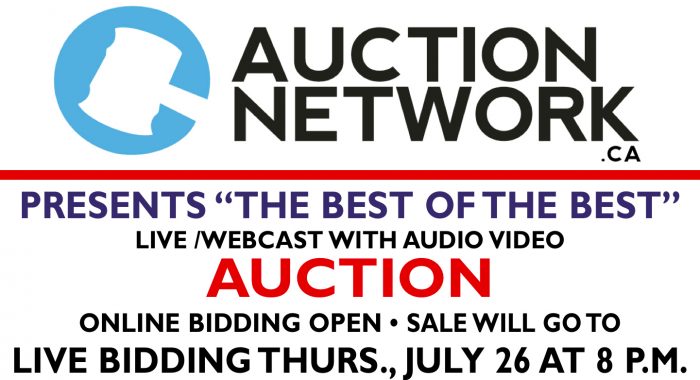 Estates, Consignments, Private Collectors
Best of The Best offerings from all categories.
Important Artworks, Original Paintings, Inuk Stone Carvings, Gold & Diamond Estate Jewellery, Royal Sovereign New Money Counting Machine, Canon Camcorder, LACIE 4TB Drive,  Apple IPhone 8Plus, Vintage Printing Plates "BUCKLEY'S" C1940, Loose Gemstones, Complete Set Scott's 2019 Stamp Catalogue & "Harris" New Album, WORLDS FIRST ANTIQUE CAROUSEL -MOVABLE MINIATURE 99.99% Pure Silver, Mintage 1000 World, Royal Canadian Mint, 18kt Gold 3.98ct Oval Sapphire & Diamond Ring ($35,000.00 Val.)
(24.45ct) Loose Aquamarine Stone ($14,800.00 Val), One of A Kind "Red Carpet Designer" Jewellery pieces with Swarovski Elements, Canadian Silver Dollar Collection, Warner Bros. "Looney Tunes" Collector Watch & Silver Coin Collection, 1867-1967 Mint Set as Issued w/$20.00 Gold Coin, Medallic History of Canada 925 Sterling Silver Collection (56 ozs.) Investment Bullion Collection,
BANK OF CANADA 1988 – 5 PC SET $1000.00 NOTES – "BCS" CERTIFIED – "AU58"
ORIGINAL "EKX" REPLACEMENTS – IN SEQUENCE – Printed 339,685 World.              
"Christian Morrisseau" Original Paintings, "Thomas Kinkade" Canvas & Litho,
A.J. Casson Original Lino Blocks (Signed), "Royal Canadian Mint" Sold Out Low Mintage Issues of High End Collector Bullion Coins & Medals. Rare Sports Collectibles – M. Ali v. Foreman Signed, Auston Matthews Jersey, Estate Sterling Silver, Important Serigraph Collection of "Norval Morrisseau" Very Rare Issue,
APPLE Men's Watch, "Lawren Harris" Panel & White Book, Rare Coins & Notes.
Terms: As per posted online and announced at sale. Registration Required.
Items may be previewed on
Thursday July 26, 2018
from 1:00pm until 8:00pm EST.
At the Auction Network Webcast Studio, 501 Alden Rd. Markham ON.